The Office of Pensions maintains comprehensive and responsive systems for benefits and funds management which helps retain a quality workforce and provides a secure and supportive retirement commitment.
Also, we like to give notice to our own employees who have provided quality service, dedication and outstanding performance in their work for all of our State of Delaware Pensions Customers.
The W. Ray "Ray J." Johnson Award
This award has been presented annually to deserving staff members since 1997. Originally named the Pension Administrator's Award, it emphasizes the belief that attitude and behavior are equally as important to professional success as job skills and abilities. The award was renamed in 2011 in honor of our respected former co-worker, Raymond Johnson, who was the first employee to receive the award. The recipient is selected by a group of past winners.
2016 W. Ray "Ray J." Johnson Award Winner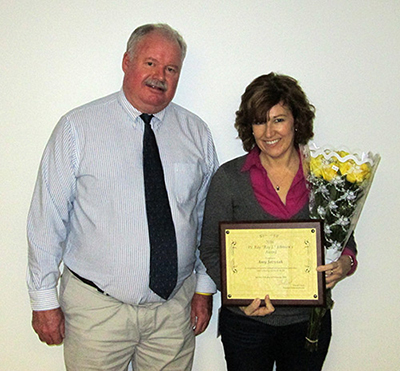 Left to Right:
David Craik - Pensions Administrator
Amy Jozwiak - Support Services
Amy Jozwiak, Support Services
The degree to which people succeed on the job depends on as much on their attitude and behavior as on their job skills and abilities.
Work Ethic: This employee is a role model who works in a section that is pivotal to the operations of the Pension Office. On a daily basis, this person accepts the challenges of the position and the building. While this section has been short staffed, this person jumps in and maintains efficient operations with minimal impact on the Office. This dedicated employee can be counted on to provide the necessary service regardless of what is on the plate at any given moment. In addition, this employee is a team player who offers assistance wherever needed and works diligently to improve and maintain efficiency.
Positive Attitude: This year's award recipient continues to maintain a positive attitude as multiple priorities, a high volume of work, and daily issues present themselves. This employee has a smile for everyone, is patient and understanding, and always has time for co-workers in need of assistance. This person is a pleasure to work with and an asset to the Office of Pensions.
Achieving Success on the Job: This employee is willing to jump in where-ever needed to assist anyone. She is a true team player. This person continues to make suggestions to enhance the quality of services provided by the Office of Pensions. The recipient has proven their self a team player by assuming the responsibilities of co-workers who are absent.
It is with great pleasure, and in the memory of our friend and former colleague
W. Ray Johnson, that the
2016 "RayJ" Award is presented to
Amy Jozwiak