The Office of Pensions maintains comprehensive and responsive systems for benefits and funds management which helps retain a quality workforce and provides a secure and supportive retirement commitment.
Also, we like to give notice to our own employees who have provided quality service, dedication and outstanding performance in their work for all of our State of Delaware Pensions Customers.
Employee of the quarter receives office wide recognition and their own parking space for that quarter.
1st Quarter Employee Recognition Award - 2016
Joi Vanderhei
Joi has recently received a promotion has been taking on increased responsibilities, during her "learning period" she has been able to add efficiencies to some of those processes. She has also been helping out with some training for the new staff that have been added to the Pen Admin staff over the last few months.
Congratulations, Joi.
2nd Quarter Employee Recognition Award - 2016
Will Arthur
Will has been an employee of the Pension Office for almost three years. He brought with him a wealth of experience in State accounting, and quickly assumed responsibility as the primary FSF staff member. During that time, he has been a "quiet giant" in the Investments & Accounting section. He produces accurate financial transactions and data that is on time and organized. His reports are complete and reliable. He is responsive to coworkers in other sections who have other deadlines and priorities. Will's follow-up on issues is complete, and any auditor check of his work shows complete detail in his work papers for each transaction. Will does all of this every day while projecting a positive, professional image.
3rd Quarter Employee Recognition Award - 2013
Alicia Fox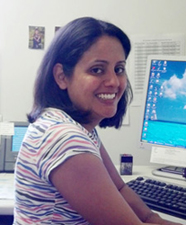 As a casual seasonal employee Alicia has worked very hard to maintain the front desk while training co-workers and maintaining her daily workload. She is always here ready to work and has a smile for everyone! Along with Alicia's daily duties, she was also asked to help the File Room while one of the employees was out of the office.
Alicia helped open and distribute the mail and was responsible for handling the incoming faxes. This was made possible by the IT folks so that this could be done from Alicia's computer at the front desk. She also assists any other section that needs help. Alicia is a dedicated employee and a huge asset to the Pension Office.
Congratulations, Alicia!
4th Quarter Employee Recognition Award - 2013
Daniel Pope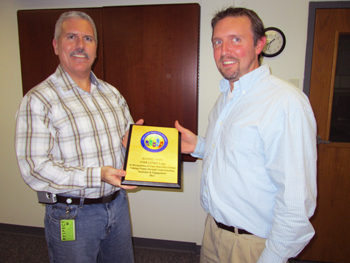 John McCartney (left) and Daniel Pope (right)


We are pleased to announce that Daniel Pope has been recognized as the Pension Office Employee of the Quarter for the third quarter of 2013.
Dan is a Senior Application Support Specialist in the Technology Group of the Pension Office. His work is focused on the support and design of our websites. Dan participated in the Diversity Committee's logo design contest and was selected as the winning entry. Dan's logo will be utilized on all correspondence and activities of the OMB Diversity Committee. It visually expresses the theme of valuing people through understanding, inclusion, and engagement.
His winning design incorporates the Committee's commitment to encourage all to Listen, Include, eNgage, Know, and Support.
Congratulations, Dan.